F
U
S
I
O
-
D
O
S
E
10 Things You Should Know About Fusio-Dose Hair Treatment
Fusio-Dose is Kérastase iconic, in-salon customized hair care treatment. Fusio-Dose launched back in 2011 and has been pushed to the next level in 2022, with the addition of concentrated skincare actives, for more performance. Book an appointment at your nearest Kérastase salon to enjoy this game-changing hair treatment.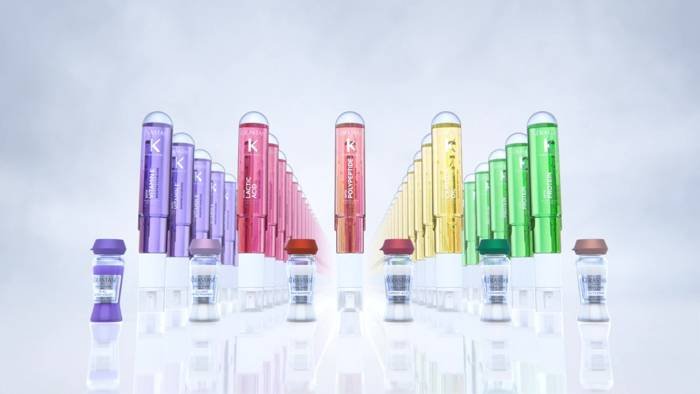 Fusio-Dose is a Kérastase service, only available in salon. It's a liquid care technology, for instant hair transformation.

Consisting of a custom-blended mix of a Concentré and a Booster, it's the ultimate quick-fix problem solver for all hair types.
2. What is the difference between the Booster vs. Concentre?
The concentré addresses the primary hair concerns. These hair needs are identified by the stylist during the diagnosis steps. The booster addresses your secondary hair concern you want to target, such as shine, nutrition, reparation, etc.
3. How many mixes are possible with Fusio-Dose?
Fusio-Dose is a custom hair treatment. With 6 Concentrés and 5 Boosters available, there are up to 30 different mixes possibilities. It allows you to target two unique hair concerns at the same time.
4. Who is this custom hair treatment right for?
Even those who take excellent care of their hair sometimes need a boost. Stress, styling and environmental factors can weaken the hair gradually, causing it to look dry and dull, behaving in strange, unruly ways. With this treatment your hair quickly transforms and restores to its full potential.
Before beginning your treatment, your stylist will diagnosis your hair. Depending on what your hair needs most, they will select a [Concentré] and [Booster] to combine and spray it onto the hair, at the backwash. Within 5-minutes your tailor-made treatment will be complete, and you'll be flaunting lush, re-energized hair all day, everyday!
6. Is Fusio-Dose the same as a hair mask?
It replaces your fondant or mask in-salon treatment, but it isn't the same. Fusio-Dose molecules are up to 100 times smaller than a traditional haircare product and it is supplemented with skincare actives.
7. Can I do a Fusio-Dose at home?
No, it is a Kérastase exclusive salon service. The Fusio-Dose custom-blended formula requires a professional evaluation of your hair to determine the best mix for you.
8. How do I know which Fusio-Dose mix is right for me?
Your hairdresser will perform a detailed professional diagnosis of your hair to define your main hair need and pick the right concentré. Your hairdresser will then discuss with you your hair goals to pick the right booster.
9. How often can I book in for a Fusio-Dose custom hair treatment?
Every salon visit! You stylist will diagnose your hair and create a freshly-mixed formula that specifically targets your current hair concerns with the correct blend of concentrated actives. Your stylist will then recommend and adapt the formula each time to suit your hair needs as they evolve with every visit.
10. What are the effects of Fusio-Dose on hair?
Fusio-Dose transforms your hair in less than 5 minutes, with a custom-blended mix that addresses 2 hair needs in 1 application!
CONCENTRÉ NUTRITIVE
A deep nourishing treatment to restore hair from dryness.

Infused with NIACINAMIDE

+66% softness
+28% suppleness
CONCENTRÉ GENESIS
A deep fortifying treatment to amplify fiber and bring lightweight volume.

Infused with COLLAGENE PEPTIDE FRAGMENT

-77% breakage
+44% volume for 24h
CONCENTRÉ RESISTANCE
An Instant hair repairing care for slow growing and damaged lengths

Infused with CERAMIDES

-96% breakage
-35% surface damage
CONCENTRÉ CHROMA ABSOLU
A white nourishing concentrate to recover fiber from color damage, for a healthier, brighter color.

Infused with AMINO-ACID

-41% surface damage
+88% nutrition
+55% softness
BOOSTER NUTRITION
A booster concentrated in camellia oil to instantly nourish dry, brittle hair.

Infused with CAMELLIA OIL

+64% softness
+31% suppleness
BOOSTER ANTI-FRIZZ
A treatment infused with pro-keratin to reduce unwanted frizz.

Infused with POLYPEPTIDE

+86% nutrition
+54% softness
BOOSTER BRILLANCE
Acid sealing care to resurface post-color treated fiber and recover fiber from coloration damage.

Infused with LACTIC ACID

+93% nutrition
BOOSTER RECONSTRUCTION
An intensive treatment based on protein to repair your hair.

Infused with PROTEIN

+85% nutrition
+68% softness
A Service Acclaim by our Hairdressers
When you and your hair need a boost, the New Fusio-Dose is your solution. Truly, it is a game-changing custom service we can provide in the salon for immediate results. It adds a luxurious moment to the client's visit, and provides them with true personalized care. What I love about Fusio-Dose is that with nearly endless combinations of Concentré and Booster, I can instantly address any concerns identified during the diagnosis, as well as my client's specific desires, letting them walk out of the salon totally transformed.

Hovig Etoyan
Kérastase Global Professional Ambassador
@hovigetoyanparis